Poor Black Friday. The discount shopping bonanza's days are numbered. Retail analysts predict the crowds at bricks-and-mortar stores the day after Thanksgiving will vanish by 2043.
"I think the death of Black Friday is one of many phenomena we will see unfold over the next 15 to 20 years," said Sam Kain, a finance teacher at Walsh College in Michigan. "In 15 to 20 years, a significant number of [baby boomers] will die."
Mr. Kain noted that boomers represent one-fifth of the U.S. population and control more wealth — more than $77.1 trillion — than all other generations combined. Online shopping has isolated them as the last generation that noticeably fills stores on Black Friday, he said.
---
---
"The internet has knocked out the crazy scenes of Black Friday for almost a decade," said Michael Austin, an economist with the National Center for Public Policy Research's Project 21. "But thanks to millennials and Gen Z, the holiday hustle is on life support."
Pressured by booming online sales in recent years, big-box stores have rolled out Black Friday-like sales events in October and offer them to digital subscribers first. They also have begun to close on Thanksgiving Day as more consumers stay home all weekend.
Mastercard SpendingPulse estimates that online holiday shopping will grow 6.7% this year, compared with 2.9% annual growth for in-store shopping.
According to recent consumer insights from business management firm McKinsey & Co., 25% of consumers plan to do more online shopping than last year.
"Unofficially, the 'early Black Friday' season [now] starts in mid-October with Amazon Prime Days promotions," said Tom Arnold, a finance professor at the University of Richmond. "This mid-October sales promotion started in the pandemic and reemerged last year. It appears Amazon intends for this to be a permanent event, and other retailers have responded in kind."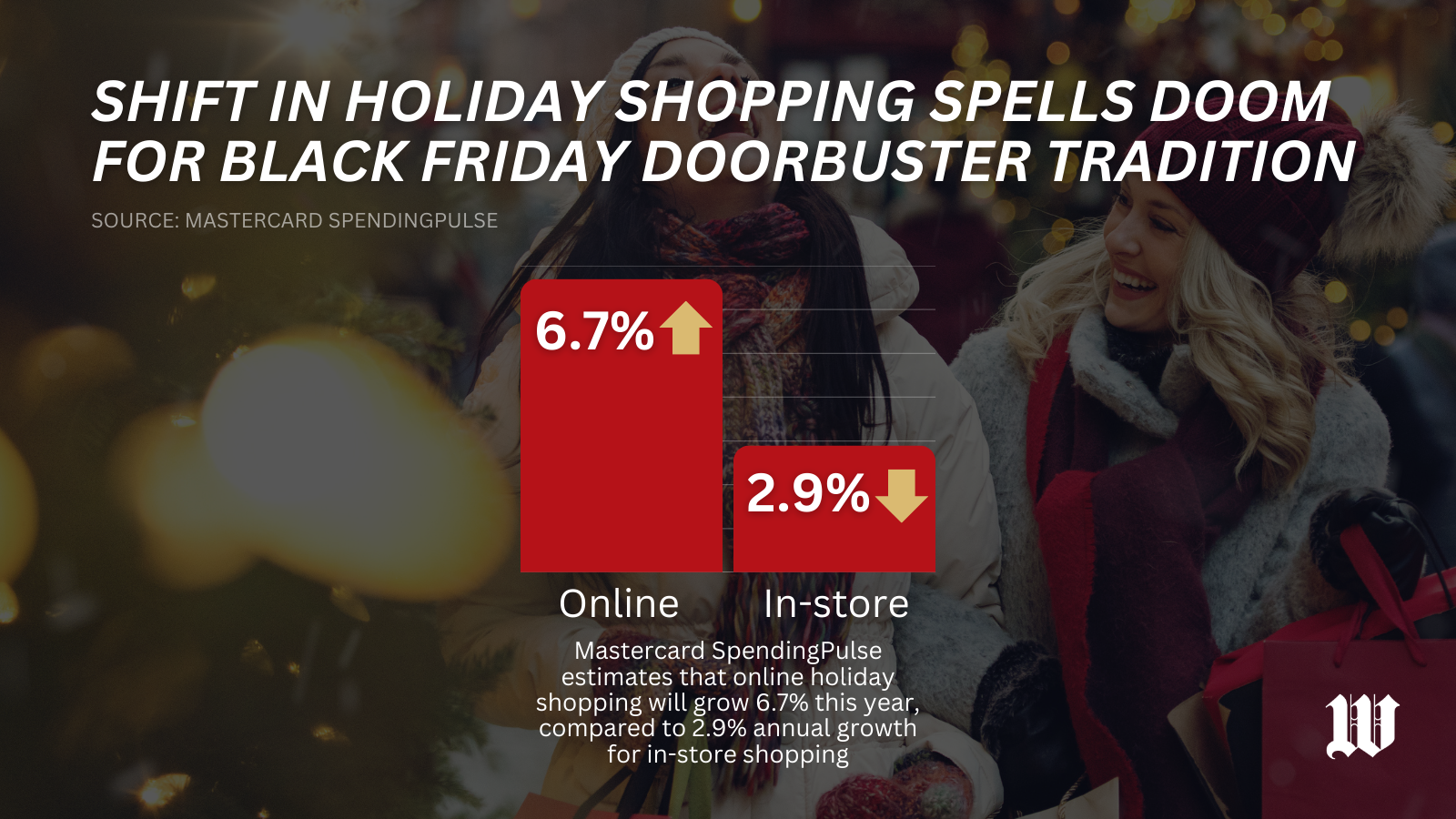 Amazon's "Black Friday Event" officially falls on Friday, a week before the day after Thanksgiving. Still, analysts say the online marketplace's Prime Big Deal Days of Oct. 10-11 have pressured big-box retailers to offer Black Friday deals even earlier.
In stores, Target launched its "early Black Friday deals" of up to 50% off selected holiday items on Oct. 29. Best Buy did the same on Oct. 30, and Walmart started on Nov. 10. Competing with Amazon Prime, Walmart and Best Buy also allowed their online subscribers to access the discounts before in-store shoppers.
Black Friday remains the biggest single-day retail event of the year in online and in-person sales combined, but consumer researcher Attest predicts U.S. shoppers will spend an average of $101 to $200 on Black Friday this year, about the same as last year and down from $300 to $500 in 2021.
Attest CEO Jeremy King blamed inflation for freezing consumer spending plans this year.
"Whether this plateau will continue will depend on shifts in consumer spending as inflation continues to be present, as well as the quality of the actual deals on the day," Mr. King said.
Two-thirds of Black Friday shoppers responding to a recent Attest survey said they planned to make purchases online and in person, followed by those who will shop online only and a small number who will shop only in stores. For the second consecutive year, clothing will be the most popular item, followed by technology and home goods.
Market researcher Pattern said generous electronics deals have made Cyber Monday the most lucrative 24-hour online shopping period of the long Thanksgiving weekend in recent years, pushing Black Friday to second place.
Cyber Monday now offers the deepest discounts of the holiday season on smart light bulbs, power banks, Olaplex products, Kindle, Fire Sticks, Echo Dots and keyboard-and-mouse combinations. Pattern said Fire Stick television remote controls were discounted an average of 17.4% on Cyber Monday last year, compared with 14.7% on Black Friday and 0.5% on Amazon Prime Day.
That doesn't mean Black Friday — or baby boomers — will go without a fight.
"Given that Black Friday is the second-best day for consumers to shop online, the first being Cyber Monday, we're likely still a ways out from declaring Black Friday dead," said Hamilton Noel, Pattern's data scientist.
Thanksgiving Day ads for "Black Friday doorbusters" offer the lowest prices of the year on 4K digital televisions (up to 50% off), video games (up to 75% off), toys (20% to 30% off), appliances (up to 40% off) and power tools (20% to 30% off), said Vipin Porwal, CEO and consumer expert at Smarty, a cash-back and coupons app.
He said "these or very similar deals" in early November make it likelier that bricks-and-mortar outlets will have limited inventory on Thanksgiving weekend.
"The old saying should generally apply that 'if you think it's a good deal, then it's a good deal,' regardless of when you buy it," Mr. Porwal said.
Copyright © 2023 ¶¶Òõ¹ÙÍø. .
Click to Read More and View Comments
Click to Hide
---
---