Turkey prices have fallen in time for Thanksgiving, but industry reports suggest some side dishes and desserts will cost a bit more this year.
The American Farm Bureau Federation reported Wednesday that the average Thanksgiving dinner for 10 people will cost $61.17, or just under $6.20 per person. That's down 4.5% from a record high of $64.05 last year but still 25% higher than the cost in 2019, the agriculture industry group said.
According to the federation, a 16-pound turkey will cost $27.35, or $1.71 per pound, down 5.6% from last year. The group attributed the change to a "sharp reduction" in bird flu cases.
---
---
"While shoppers will see a slight improvement in the cost of a Thanksgiving dinner, high inflation continues to hammer families across the country, including the nation's farmers," federation President Zippy Duvall said. "Growing the food families rely on is a constant challenge for farmers because of high fuel, seed, fertilizer and transportation costs, just to name a few."
The group has tracked the prices of turkey, stuffing, sweet potatoes, pumpkin pie and other staples in 38 annual surveys.
This year's survey found prices have dropped on average 2%-18% for stuffing mix, frozen pie crusts, whipped cream, frozen peas, whole milk, fresh cranberries and miscellaneous ingredients.
At the same time, the federation reported average prices are up 2%-4% for a dozen frozen dinner rolls, pumpkin pie mix, sweet potatoes and carrot-and-celery veggie trays.
According to food industry researcher Urner Barry, side dishes such as carrots have seen the sharpest price increases over the past year.
Harry Campbell, a fruit and vegetable analyst at Urner Barry's British parent company, Mintec, said the average price of carrots in the U.S. jumped by 27.2% to 77 cents a pound this month due to supply chain issues and an extended drought in California, the nation's leading producer.
"This rise was primarily caused by elevated input costs and a reduced supply," Mr. Campbell told The Washington Times. "The decrease in areas allocated for carrot production in the US, particularly in California, was due to rising labor and farming expenses, prompting some farmers to switch to different crops."
Analysts say increased production costs for energy, fertilizer, sprays and seed have raised the retail prices of many sweets and canned vegetables.
Ryan Young, a senior economist at the libertarian Competitive Enterprise Institute, pointed out that food prices rose 3.3 percent over the 12 months ending in October.
But he said larger crops of turkeys, lower prices for refrigerated trucking and a drop in per-mile transportation costs confirm "that supply chains have recovered from the pandemic."
Market analysts say how much consumers benefit from that recovery will depend on what they buy for Thanksgiving.
According to market researcher Datasembly, the average cost of a basket of Thanksgiving sides and desserts adjusted for inflation has risen by 6.28% from $41.72 last year to $44.34 this year. The firm surveyed prices at Walmart, Albertsons, Kroger, Target and other leading retailers as of Nov. 11.
Datasembly measured prices for russet potatoes, roasted turkey gravy, eight buttermilk biscuits, cut green beans, jellied cranberry sauce, pumpkin pie mix, frozen pastry pie shells, whipped topping and sweet corn.
For the overall meal, consumer researcher Pattern reported that its standard bag of Thanksgiving groceries will cost 0.5% less this year, with decreasing milk and turkey prices leading the way. 
Nevertheless, Pattern estimated that dinner rolls, olive oil and sweet potatoes have gotten more expensive this month, with the last two jumping in price by 10% each.
Executives at Butterball, which produces 1 out of every 3 turkeys served at Thanksgiving each year, say that won't stop Americans from celebrating the traditional holiday meal.
The North Carolina-based poultry producer said that while 79% of consumers responding to a recent company survey expected inflation to impact their plans this year, 89% still planned to celebrate the holiday and most intended to serve turkey.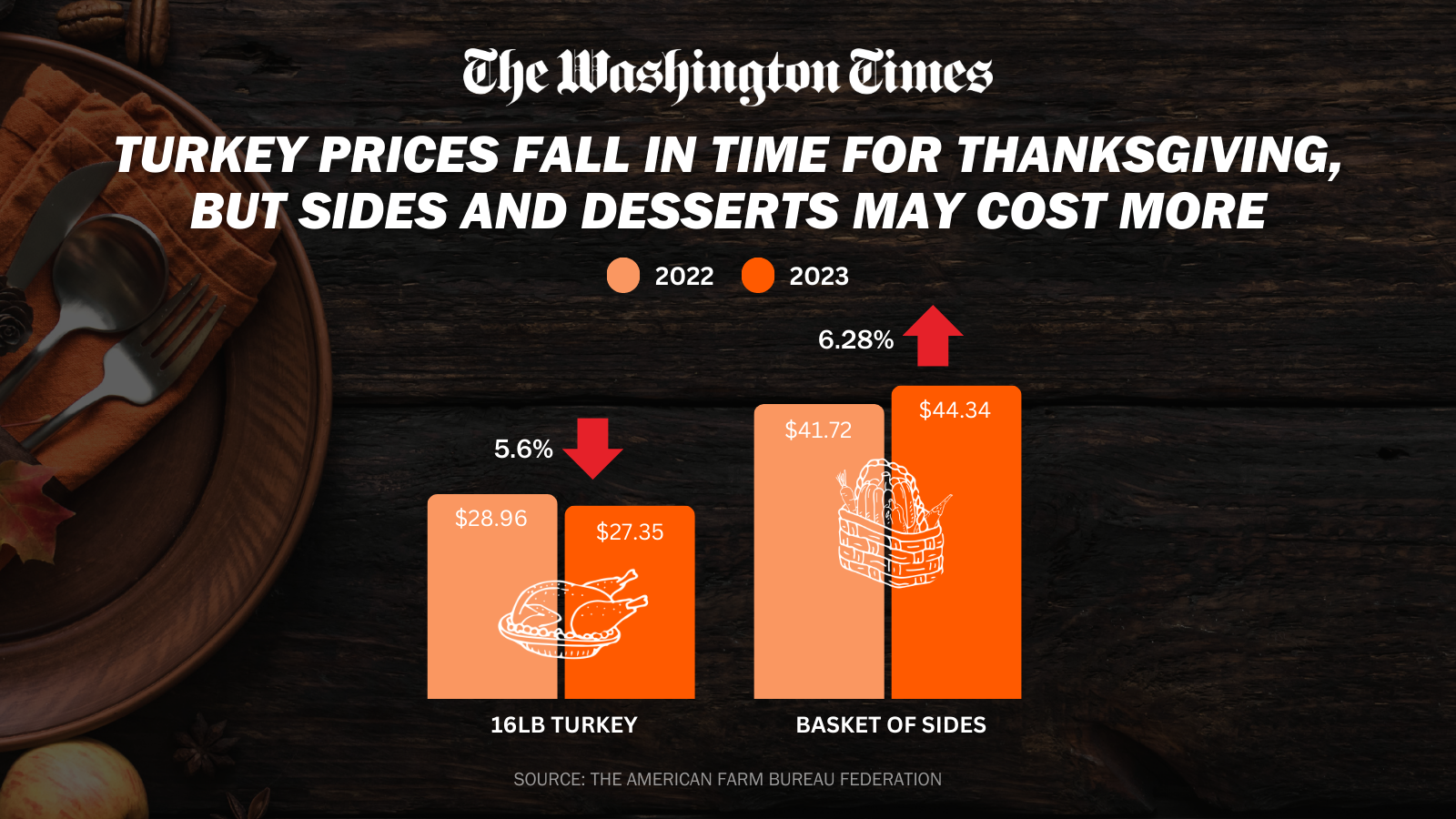 Al Jansen, Butterball's executive vice president of sales and marketing, said a resurgence of Avian influenza outbreaks in recent weeks has had a minimal impact on his company and will not impact the supply of birds in grocery stores over the next week.
As of this week, he said retail prices for Butterball turkeys range between 99 cents and $1.99 a pound and are "about the same" as last year, or slightly higher in some stores.
"People are still thinking about inflation when planning their Thanksgiving dinner, but putting a turkey in the middle of the table is the most important part of what they're doing," Mr. Jansen told The Washington Times. "If they cut back, they'll either cut back on sides or ask people to bring a side dish."
Copyright © 2023 ¶¶Òõ¹ÙÍø. .
Click to Read More and View Comments
Click to Hide
---
---